Woman beats man on stage, upset over children's marriage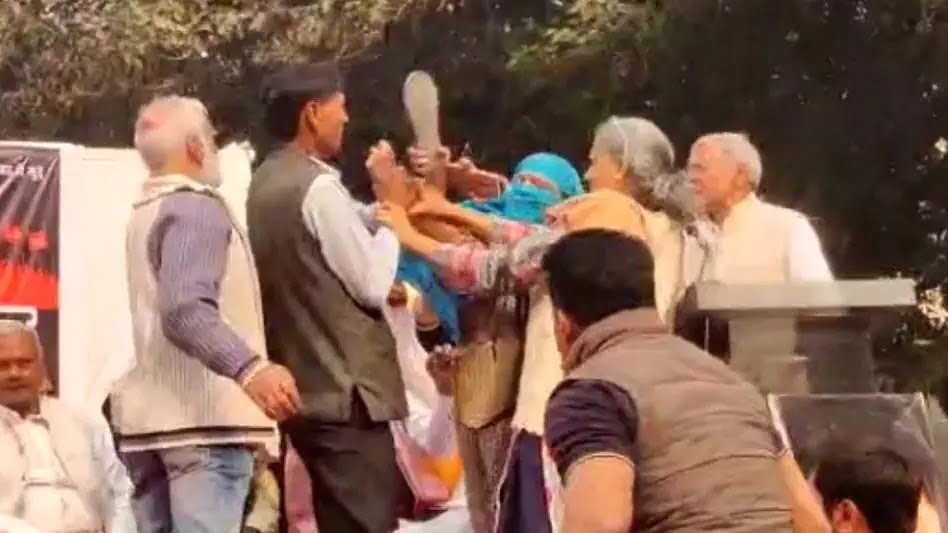 A woman thrashed a man with a slipper on stage during an event in Delhi's Chhatarpur. The incident took place at the Beti Bachao Mahapanchayat of the Hindu Ekta Manch. It is being told that the woman was keeping her point and the man was trying to remove her from the mic. Due to which the woman took off the slippers and started hitting him. The video of the incident has gone viral on social media.
According to media reports, the woman's daughter had eloped with the man's son. The two also got married. The woman was telling about this on stage. During this time, she got angry and took out slippers and started hitting Samdhi. The rest of the people present at the event came on stage and stopped the woman.
The person who was beaten has been identified as Satya Prakash. According to the information, his son and this woman's daughter have married in Arya Samaj. He has also applied in court for a marriage certificate. According to Satya Prakash, he has no problem with this marriage, but the woman has not accepted this marriage. The woman feels that her daughter has been forcibly married.
In fact, Aftab Amin Poonawalla brutally killed Shraddha Walkar in Chhatarpur area of Delhi and cut her into 35 pieces. This mahapanchayat was held to seek justice for Shraddha. Where this beating incident took place.
Latest News= https://happenrecently.com/