South India got its first Vande Bharat, PM Modi flagged off Mysore-Chennai train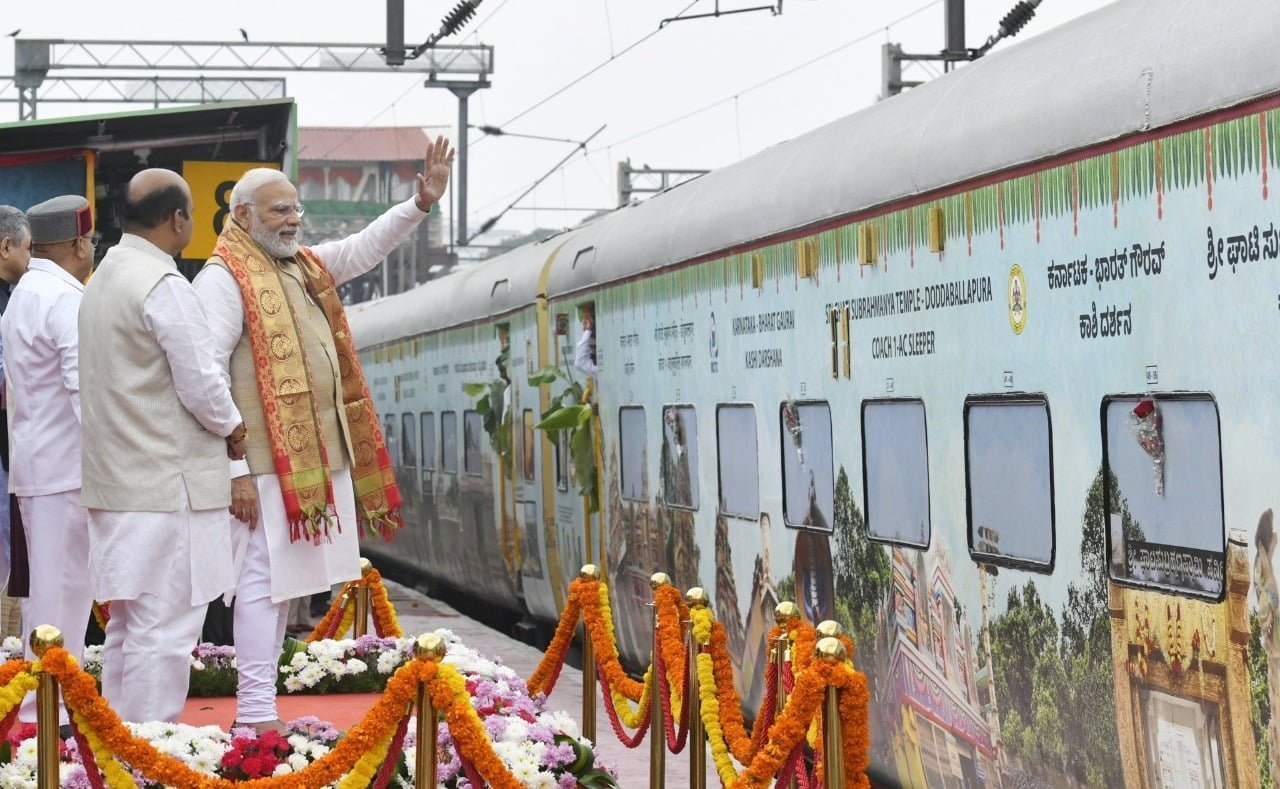 Prime Minister Narendra Modi is on a two-day visit to South India from Friday. PM Modi reached Bengaluru on Friday. He inaugurated Terminal-2 of Kempegowda International Airport constructed at a cost of about Rs.5,000 crore here. Earlier, PM Modi also flagged off the Mysore-Chennai Vande Bharat train at Bengaluru railway station. This is the country's 5th and South India's first Vande Bharat train. Apart from this, PM Modi also flagged off the Bharat Gaurav Kashi Darshan train. PM Modi described Vande Bharat train as the new identity of New India.
PM Narendra Modi said that Vande Bharat train is not just a train but it is a new identity of New India. This is a glimpse of how India's train will be in the 21st century. Vande Bharat Express is a symbol of the fact that India has now left the days of stagnation behind. He said that India now wants to run faster and is doing everything possible for it. In the coming 8-10 years, we are aiming to transform the transformation of Indian Railways.
Today, India's identity in the whole world is for startups and Bangalore has a big role in empowering this identity of India. The PM said that start ups are not just a company. A startup is a belief, a solution to every challenge that the country is facing. Bangalore is an international city. We have to enrich our heritage with modern infrastructure and this is possible only with the efforts of all. The PM said that today is the birth anniversary of two great children of Karnataka and the country. Sant Kanakdas ji gave guidance to our society, while Onke Obvva contributed towards our pride and culture.
PM Modi said that Karnataka is also getting huge benefit of the amazing trust that has been created for investment in India in the whole world. In the last three years, when the whole world was affected by Kovid, about 4 lakh crore rupees were invested in Karnataka.
Prime Minister Modi said that the country's first high speed train Vande Bharat Express is currently running on four routes. Vande Express service has started from Delhi to Varanasi, Delhi to Katra and just on 30th September from Gandhi Nagar in Gujarat to Mumbai. Vande Bharat Express is the fastest train in the country. It has a speed limit of 180 kmph. In the next few months, it will start running at a speed of 200 kilometers per hour.
Latest News = https://happenrecently.com/g-20-sherpa/