16 kg gold, Rs 3.5 lakh cash looted in mp's Manappuram gold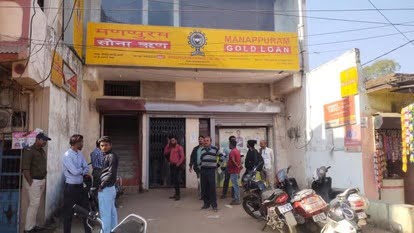 Armed miscreants have entered Manappuram Gold Loan Finance in film style in Katni district of Madhya Pradesh and committed robbery. The robbers decamped with over 16 kg of gold, Rs 3.5 lakh in cash and a bike. This is said to be the biggest robbery in the robberies so far in Katni district of MP, in which masked miscreants have carried out such a big robbery at gunpoint. As soon as the incident was reported, there was a stir in the entire police department. In a hurry, the police of six police stations including ASP, CSP reached the spot and started investigation.
The robbery took place between 10.25 am and 10.40 am in broad daylight. At that time, an employee was sweeping gold loan finance. At the same time, armed miscreants tied a cloth on their mouth and put helmets and entered inside. The miscreants assaulted the employees at gunpoint and took them aside. At gunpoint, all the lockers were opened and the jewellery and cash kept in it were kept in the bag and fled. However, as soon as the locker opened, the siren in the bank started making a sound, but by then the accused had gone too far. After this, the police reached the spot and started investigation with the help of dog squad and finger print experts. Also, the thieves are being searched by blockade on major roads.
Latest News= https://happenrecently.com/