Shocking accident in Jodhpur, youth burnt alive in car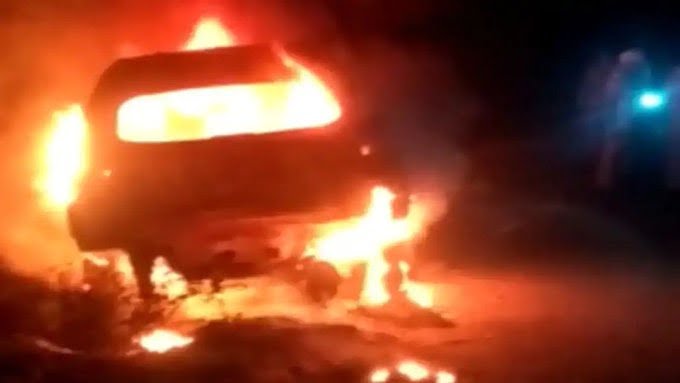 A tragic road accident has occurred in Jodhpur, Rajasthan. After the accident, the young man got trapped in the car and burnt alive. In the tragic accident, the young man kept suffering from the fire, but he could not even get a chance to come out. After about an hour of effort, when the young man was pulled out of the car, his skeleton came out. It is being told that the deceased was leaving his wife and going to his house. The incident took place at 8 pm on Thursday night on the mega highway in Shergarh, Jodhpur.
According to the information, Harmat Singh, a resident of Sointra, had gone to Pehar in Kodiyasar Fatehgarh on Thursday evening to leave his wife. He was returning to his village after leaving his wife when a tanker filled with edible oil hit the Innova near Moti ji ki piau near Sointra around 8 pm. The collision was so strong that Harmat Singh's car jumped and fell on the side of the road. As soon as the car fell, it caught fire. The fire was so fierce that Harmat Singh did not get a chance to get out of the car and got stuck in it. He died after suffering severe burn injuries in the accident.
During this time, the people present there also tried to extinguish the fire. But no one could muster the courage to go near seeing the flames. By the time the fire was brought under control an hour later, Harmat Singh was completely burnt. Only his skeleton survived the accident. Police said the car's engine caught fire after the collision. After the accident, the fire was brought under control with the help of villagers.
Latest News=https://happenrecently.com/