Perspectives on Teacher Education
Published by : red'shine PUBLICATION,London,UK
Authors :
Prof. Dr. Prarthita Biswas, Professor, Department of Education, Swami Vivekananda University, Barrackpore, West Bengal, India;
Mr. MAM Sameem, Department of English Language Teaching, Faculty of Arts and culture, South Eastern University of Sri Lanka, Sri Lanka
Dr. Subhadeep Mazumder, Assistant Professor& HoD, Dept. of Education, Swami Vivekananda University, Barrackpore, West Bengal, India
"Perspectives on Teacher Education" published by red'shine PUBLICATION,London,UK is an academic book that explores various viewpoints and approaches to the field of teacher education.
The book covers a wide range of topics, including:
Historical Development: An overview of the historical evolution of teacher education, from its origins to its current state, and how it has adapted to changing educational needs.
Philosophical Foundations: Examination of the philosophical underpinnings of teacher education, exploring different educational theories and their implications for teaching practices.
Pedagogical Approaches: Discussions about various teaching methods, strategies, and best practices for preparing future educators, as well as how to effectively teach diverse groups of learners.
Curriculum and Assessment: Consideration of the design of teacher education programs, including what content should be covered, how it should be taught, and how to assess aspiring teachers' competence.
Teacher Identity and Professional Development: Exploring the process of becoming a teacher, the development of a teacher's professional identity, and ongoing professional development throughout a teaching career.
Challenges and Innovations: Addressing the challenges faced in teacher education, such as the incorporation of technology in classrooms, the need for culturally responsive teaching, and preparing teachers for inclusive education.
Global Perspectives: Analysing teacher education in different countries and regions, comparing approaches, and considering how cultural and contextual factors influence teacher preparation.
Policy and Governance: Examining the role of government policies and regulations in shaping teacher education systems and the implications for the teaching profession.
Research in Teacher Education: Reviewing the latest research in the field of teacher education, including studies on the effectiveness of various approaches and the impact of teacher preparation on student outcomes.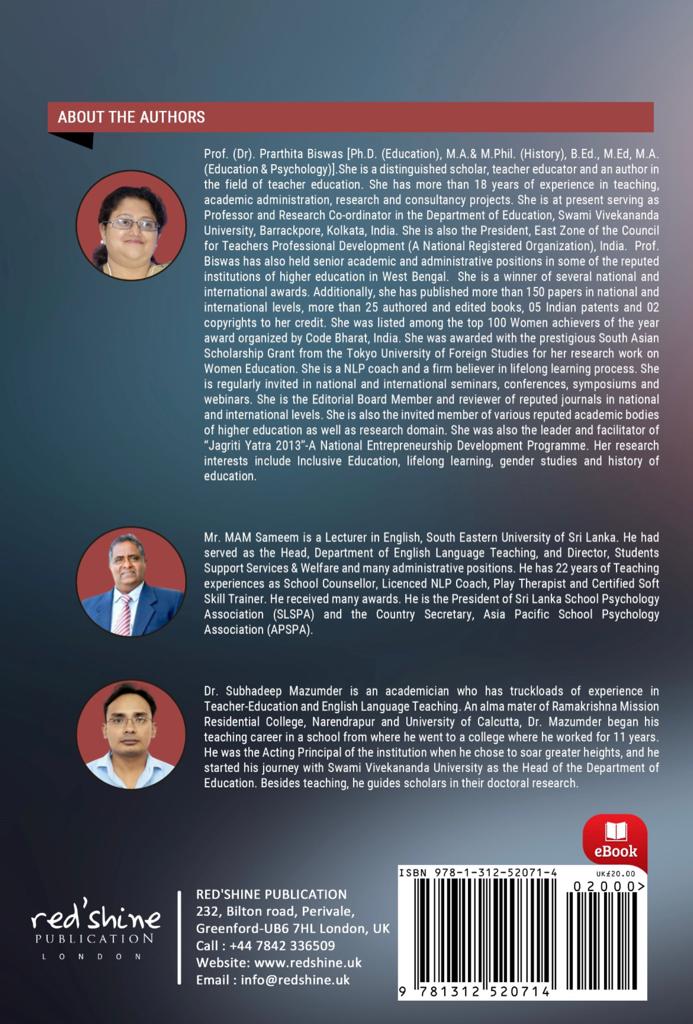 The goal of "Perspectives on Teacher Education" would be to provide readers with a comprehensive and multifaceted understanding of the challenges, practices, and opportunities in the domain of teacher education. It can be valuable for educators, policymakers, researchers, and anyone interested in the field of education and professional development of teachers.
This book is available for sale at: https://store.pothi.com/book/prof-dr-prarthita-biswasmam-sameemdr-subhadeep-mazumder-perspectives-teacher-education/
For more content visit= https://happenrecently.com/