Sachin Pilot meets Congress President Mallikarjun Kharge, meeting held in Delhi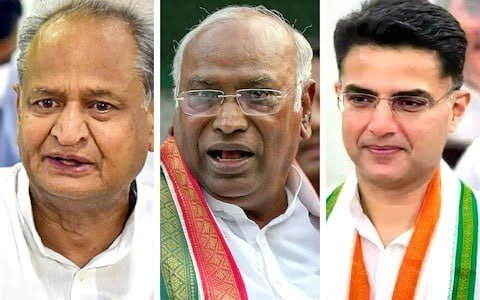 Amid political speculation in Rajasthan, former Chief Minister Sachin Pilot has met Congress President Mallikarjun Kharge and KC Venugopal. This meeting took place at the AICC headquarters in Delhi on Monday. Meanwhile, once again the question has started to arise whether Pilot's visit to Delhi will lead him to the CM's chair? However, it is being told that this meeting has taken place regarding the further steps of Rahul Gandhi's Bharat Jodo Yatra. But the political meaning of Pilot's meeting with Kharge is definitely being extracted. Pilot camp in Rajasthan is continuously demanding leadership change. In such a situation, the meeting of the pilot with Khagde is considered very important. Political speculations have once again got wind.
Digvijay Singh, in-charge of Bharat Jodo Yatra was also present in the meeting held at AICC Headquarters Delhi. Let me tell you, even before the Bharat Jodo Yatra enters Rajasthan in December, Pilot's supporters are pressurizing him to hand over the responsibility of the state. Recently, Acharya Pramod Krishnam, a pilot supporter, gave a statement in Jaipur. Acharya Pramod said that the verdict has been written. remains to be narrated. Acharya Pramod has been demanding that Sachin Pilot be made the Chief Minister for a long time. Even before this, he has made statements in favor of the pilot.
Ever since the boycott of the Congress Legislature Party meeting in Rajasthan on September 25, the Pilot camp has been continuously targeting the ministers and MLAs of the Gehlot camp. Minister Rajendra Gudha and Congress MLA Divya Maderna, who are considered to be of Pilot camp, are targeting CM Gehlot in gestures. Minister Gudha said that the Congress government will repeat in Rajasthan only if Sachin Pilot is made the CM.
Latest News = https://happenrecently.com/cm-in-rajasthan/