Most Prestigious International Conference MIDAS-2022 – Technical Sponsor: Nikhil Bharat Council for Science & Technology Conference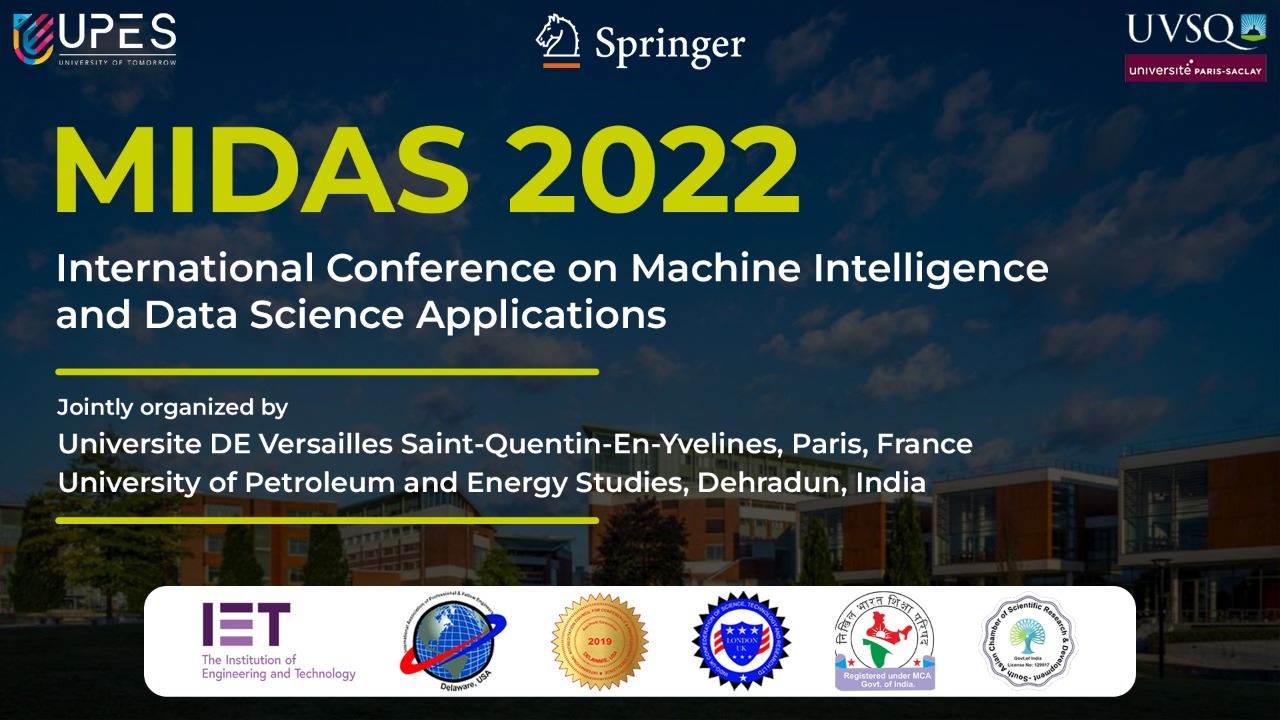 The International Conference on Machine Intelligence and Data Science Applications, (MIDAS-2022) which will be held on Dec. 7, 2022, at University of Versailles – Paris Saclay, France (online) with jointly organized by UPES Dehradun India. MIDAS-2022 aims to promote and provide a platform for researchers, academia and practitioners to meet and exchange ideas on recent theoretical and applied Machine and Artificial Intelligence and Data Sciences research. The conference targets the theme Machine Intelligence and its Applications. A wide range of work with comprehensive information on image processing, natural language processing, computer vision, sentiment analysis, voice and gesture analysis, and other topics are invited to the conference. The latest work in multidisciplinary applications such as legal, healthcare, smart society, cyber physical systems, and smart agriculture, among others are also invited. The conference will be of interest to computer science engineers, machine intelligence lecturers/researchers, and engineering graduates. The conference program consists of a wide range of sessions including distinguished lectures, paper presentations and poster presentations, along with prominent keynote speakers and industrial workshops. The theme for the conference is apt to the present scenario as currently the world is driven by data and human interference is being limited by using various AI technologies.
Nikhil Bharat Shiksha Parisad(NBSP)- Empaneled Under NITI AAYOG Govt.of India, Ministry of Social Justice & Empowerment Govt.of India,Ministry of Women & Child Development Govt.of India, MSME Govt.of India; Exempted Organization Under 12AA & 80G By Income Tax Department Govt.of India; Official Finance Partner of MIDAS-2022 and Nikhil Bharat Council for Science & Technology Conference( India's First Organization Exclusively Designed for Science & Technology Conference) Official Technical Partner of MIDAS-2022.
Nikhil Bharat Shiksha Parisad International Wing South Asian Chamber of Scientific Research & Development( First Research Coordinating Association of SAARC Countries), International Association of Fellow Engineering,USA
NBSP Run & Managed By: All India Eminent Faculty Council of Engineering, Management & Technology( Formally Known as Indian Engineering Teachers Association). NBSP Official Support Desk for Membership/Fellowship/Student Chapter/Institutional Chapter: 9073351234 , Want to Conduct International Conference in Association with Nikhil Bharat Shiksha Parisad & Nikhil Bharat Council for Science & Technology Conference ; Feel Free to Communicate with Us [email protected] For Details Please visit: www.nikhilbharatshikshaparisad.in
Latest News = https://happenrecently.com/suraj-jumani/