A major accident took place in Khargone, Madhya Pradesh on Tuesday morning, where a bus fell from a 50-feet-high bridge. At least 22 passengers were killed in the accident. The dead include three children, nine women and 10 men. According to the information, the bus fell down after breaking the railing of the bridge of Borad river between Dongargaon and Dasanga. There was no water in the river. Home Minister Narottam Mishra has ordered a magisterial inquiry. More than 30 people were injured in the accident and were taken to the district hospital. Seven seriously injured have been admitted to a hospital in Indore.
People say that there were more than 50 people in the bus. The accident took place between 8.30 am and 9 pm. As soon as the accident took place, the villagers of Dongargaon and Lonara reached the spot and broke the glass and pulled out the injured and took them to the hospital. According to villagers, the bus was moving at a high speed.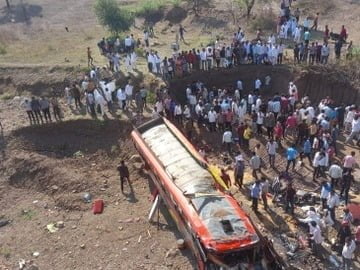 The bus was going towards Indore from Bejapur in Khargone. Due to high speed, she fell uncontrollably and fell down from the bridge, breaking the railing. Most of them were injured as the river was dry. All 15 passengers died on the spot.
Latest News= https://happenrecently.com/