Shriguru Majid Paithankar entitled as Global Ambassador of Peace from the hands of UNESCO Chair Holder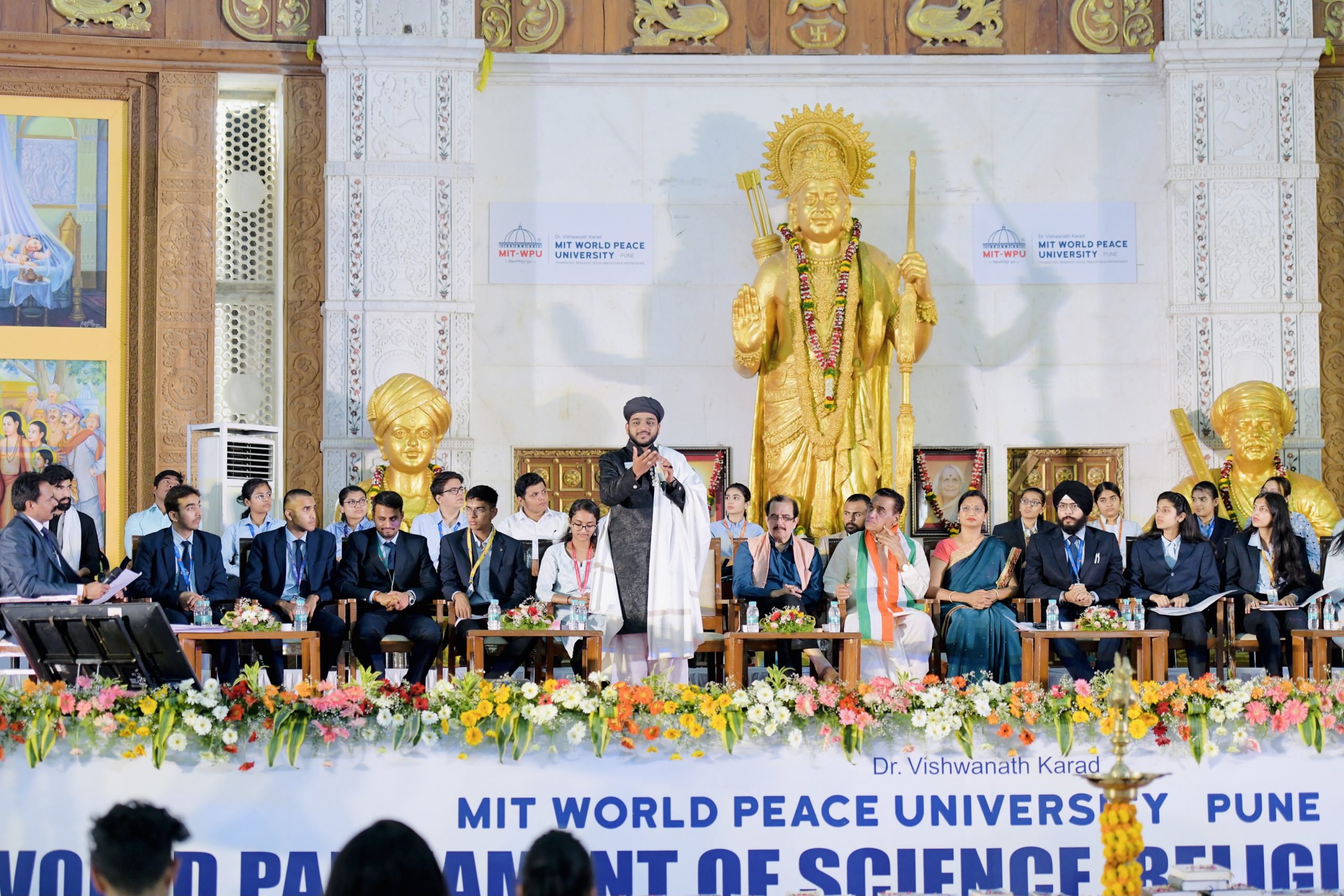 Shriguru Majid Paithankar entitled as Global Ambassador of Peace:
"This is a loud and clear message to the world that we all are one and we belong to One single supreme energy," Shriguru Majid Paithankar said in the 8th World Parliament of Science, Religion, and Philosophy, and quoting a sacred hymn from the Upanishad Shriguru said "Aum Purnamadah Purnamidam Purnatpurnamudachyate Purnasya Purnamadaya Purnamevavashishyate," which means Aum! That is infinite, and this (universe) is infinite. The infinite proceeds from the infinite. (Then) taking the infinitude of the infinite (universe),It remains as the infinite alone. 
A well-known global spiritual leader, founder president and spiritual master in The Zariya Organization, and a two-time UNESCO Endowment Series awardee, Shriguru Majid Paithankar who belongs to small town of Murbad , located in district Thane was invited in the 8th edition of the World Parliament of Science, Religion, and Philosophy, held in the World Peace Dome, Loni, and was given the honorary title of Global Peace Ambassador in association with the World Peace Centre, Alandi, by MIT-World Peace University (MIT-WPU), MAEER's MIT Group of Institutions, and MIT-ADT University.
Shriguru Majid Paithankar, The World Peace Centre (Alandi) describes Global Peace Ambassadors as messengers of Life, or love in its most pure form. The Peace Ambassador promotes the culture of peace and harmony in line with the goals and objectives of the UNESCO chair for Human Rights, Democracy, Peace, and Tolerance.
They achieve this by educating people about both the scientific and spiritual aspects of life and by promoting a more cohesive and tolerant global community. 
On behalf of the World Peace Centre, Alandi, The UNESCO Chair holder for Human Rights, Democracy, Peace, and Tolerance, Revered Prof. Dr. Vishwanath D. Karad, Founder President & Chief Patron, MAEER's MIT, Pune; with Padma Bhushan and Padma Shri-Hon. Dr. Vijay P. Bhatkar, Chancellor of Nalanda University; and Padma Vibhushan, Padma Bhushan and Padma Shri-Hon'ble Dr. Raghunath Mashelkar, internationally famous scientist, presented Shriguru Majid Paithankar with this great title in recognition of his outstanding contributions to communal harmony and world peace through his significant research and knowledge of spirituality, and for his great influence in hearts around the world as a pure saint and contemporary guru.
Hon'ble Vishwanath D. Karad commented that Maharashtra has always been the land of saints, and we are all too fortunate.
In addition to being a realised Siddha Yogi, Shriguru Majid Paithankar is regarded as a real representative of Islam. He initiates people into powerful yoga practises. He explains to his followers, who represent a range of religious traditions, how religions are routes to the supreme.
People all across the world look forward to him as someone who can purely restore the original, undisturbed religious core. He is well-known for his preaching style and a famous phrase that claims he can teach you the Bhagwat Geeta from the Quran and the Quran from the Bhagwat Geeta.
Prof. Milind Patre, Associate Dean of the Faculty of Peace Studies at the MIT World Peace University in Pune, praised and thanked Shriguru Majid Paithankar for his long involvement with MAEER's and the World Peace Centre before introducing him and his organisation at the conference. He discussed his organisation, Zariya, which seeks to bring out the genuine essence of Bharat, supports religious unity, and provides strong and effective Yogic Kriyas.
The Hon'ble Governor of Maharashtra, Shri Bhagat Singh Koshyari, graced the event with his presence and praised Shriguru Majid Paithankar personally for his significant work. The Chief Guest of the distinguished gathering, Shri Arif Mohammed Khan, The Hon'ble Governor of Kerala and former Cabinet Minister for Energy and Civil Aviation, Government of India, delivered the closing remarks, Hon'ble Shri Dada Idate, Chairman of the National Commission for Denotified Nomadic and Semi-nomadic Tribes, New Delhi, as well as numerous bureaucrats, politicians, keynote speakers from abroad, well-known artists, diplomats, and ambassadors from all over the world attended the event.
The union of philosophy, religion, and science for the benefit of humanity served as the cornerstone of this parliament. According to Shriguru Majid, the first prerequisite for success is peace; if there are conflicts, the solution is murky. Shriguru, who is recognised for his revolutionary research on religions, spoke at the conference about Shri Prahlad and Prophet Abraham, two widely venerated personalities in both Hinduism and Islam.
Instagram: https://www.instagram.com/majid.paithankar/
Website: shrigurumajid.com
For More News Visit: Happen Recently