Pm Modi and Lok Sabha Speaker wear masks as opposition creates ruckus in Lok Sabha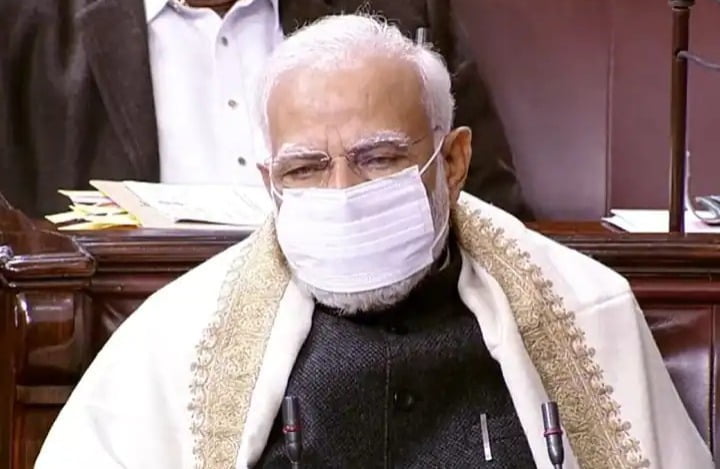 In the winter session of Parliament, the opposition is constantly adamant on the demand for a discussion on China. Even on Thursday, the Parliament session was noisy. The opposition had already prepared to corner the government, as soon as the session started, there was a demand for a discussion on China and opposition MPs started shouting slogans, after which the proceedings had to be stopped. At the same time, the effect of Corona was also seen in the Parliament session. MPs in both houses were seen with masks. The Lok Sabha Speaker also appealed to MPs to wear masks.
Leaders of opposition parties met the Leader of Opposition in the chamber of Leader of Opposition in Parliament Mallikarjun Kharge to discuss the strategy. After which all opposition parties, including the Congress, demanded a discussion with the government on Chinese incursions. Congress MPs Pramod Tiwari and Manish Tewari had given suspension of business notice under Rule 267 in the Rajya Sabha to discuss the border situation with China. However, it could not be discussed. After which opposition MPs walked out in the Rajya Sabha. At the same time, the Proceedings of the Lok Sabha were also adjourned for some time after the uproar by the opposition.
Congress president Mallikarjun Kharge said, "We want a discussion on China and apologize to Piyush Goyal. Kharge said that you are getting upset with us, if you talk to us alone, the country will not know. On this, Piyush Goyal said that the issue raised by Kharge has been told earlier that such sensitive issues have not been discussed in history. The Defence Minister has given detailed information to the House.
Piyush Goyal said that in 1962, the Prime Minister, who came from his party, had said that if a part of the country is separated, then what is a big deal because not a single straw of grass grows there. Piyush Goyal once again raised the issue of Rajiv Gandhi Foundation in The Rajya Sabha. "I had no intention to insult Bihar or Biharis. Goyal had earlier said in a statement that if his bus runs, he will make the entire country a Bihar.
Lok Sabha Speaker Om Birla made it mandatory for all MPs, ministers and officials entering the House to wear masks. On Thursday, MPs were going inside without wearing masks. The Lok Sabha Speaker appealed for vigilance and caution. He said that given the past experiences, it is necessary to take precautions. In the Rajya Sabha too, all the MPs were seen wearing masks, while the Chairman was also wearing masks.
Latest News= https://happenrecently.com/