Leading Spoken English Institution Elite Academix celebrates 'Education & Skill For All' for India @2047.
Elite Academix is a renowned Spoken English Academy ranked for delivering "Best English Speaking Course in Ghaziabad" on Google with over 150 Five-Star reviews making it a startup to be reckoned with.
Elite Academix is Celebrating #Amritkaal With " श्रेष्ठ भारत & Nai Talim" Campaigns Respectively, with introducing PAN INDIA FREE SPOKEN ENGLISH / HINDI COURSE in pursuit of "Equality Of Opportunity" for achieving its Vision of 100% Literacy Rate for India @2047.
"श्रेष्ठ भारत Campaign" is supplemented by "Nai Talim" providing 'Right To Be Employable' furnishing youth with essential IT SKILLS like website designing, SEO optimization, social media management & Digital Marketing for advertising an any skill / product produced in any part of India and enabling people to earn P2P (Passion to Profit) Income for India To Become A Global OUTSOURCING HUB with vibrant demography.
How to Avail FREE Spoken English Course or "Sreshta Bharat Course" ?
One Can Enroll in That Course For FREE By Downloading Elite Academix App From The PlayStore, And Following The Listed Steps:
1) Download Elite Academix App
https://play.google.com/store/apps/details?id=com.mohit.ingenium.tca738
or
Visit: elite.ingeniumedu.com
2) Sign-up using your phone number and fill up the necessary details like name, surname, email.
3) Scroll down the main screen and go to Library Section
4) After Clicking On "Library Section" —> Choose Folder Named "श्रेष्ठ भारत"
5) Then Choose English Speaking, Writing & Reading Folder for Full list of lessons in Spoken English Course.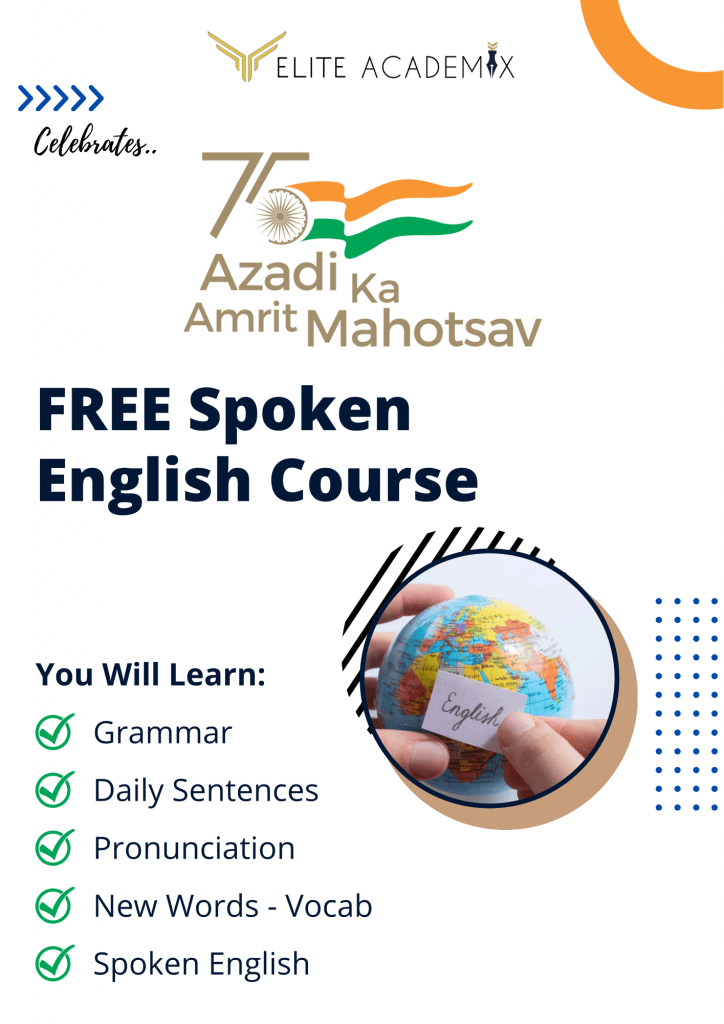 6) To Get "Nai Talim" assuring 'Right To Be Employable' Click Here & Sign-up: https://app.eliteacademix.in/courses/marketing-masterclass
Elite Academix application-driven english communication course help students of different age group from 4 to 40 enhance their stronghold on English, gain unmatched confidence and guide them into becoming powerful, articulate, and excellent orators and public speakers.
To Get 1-on-1 LIVE Classes Visit Website And Fill Up The Form: app.eliteacademix.in