16 soldiers killed, four injured as army truck falls into gorge in North Sikkim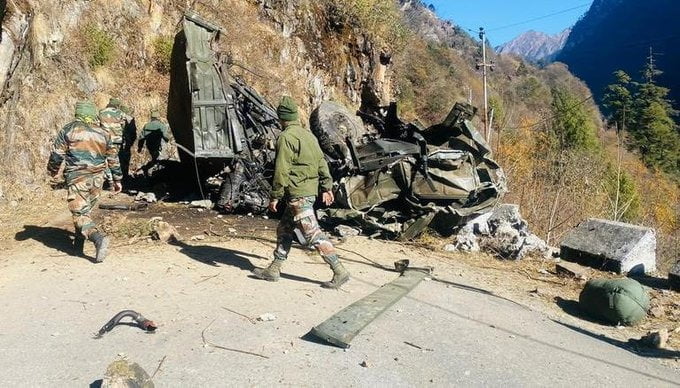 An Army truck fell into a gorge in North Sikkim's Jema on Friday. In this, 16 soldiers were martyred, while 4 soldiers are injured. The Indian Army said in a statement that 16 heroes of the Indian Army have lost their lives in this tragic road accident. According to the Army, the vehicle skidded off a sharp turn and fell straight into the gorge. The Indian Army has confirmed the accident in a statement. An Army truck met with an accident in Jema, North Sikkim on Friday, the Army said. In this tragic road accident, 16 heroes of the Indian Army have lost their lives.
The vehicle was accompanied by two army vans. The three vehicles had left for Thangu from Chatan in the morning. The army rescue team has airlifted 4 injured soldiers. The bodies are also being exhumed.
President Droupadi Murmu and Prime Minister Narendra Modi expressed grief over the accident and wished speedy recovery to the injured. The Prime Minister has announced a compensation of Rs 2 lakh from the Prime Minister's Relief Fund to the families of the soldiers who lost their lives and Rs 50,000 to the injured. Defence Minister Rajnath Singh tweeted, "Deeply saddened by the loss of lives of Indian Army personnel in a road accident in North Sikkim. The nation is grateful to them for their service and commitment. My condolences to the families of the deceased soldiers. I pray for the speedy recovery of the injured soldiers.
"Unfortunately, three junior commissioned officers and 13 soldiers were killed in the crash. The Indian Army stands with the bereaved families in this hour of grief. North Sikkim is a very dangerous area. This area is completely covered with snow these days.
Latest News= https://happenrecently.com/